What is WhatsApp Digital Payments:
WhatsApp Digital Payments is amazing feature by Facebook where you will be able to send and receive money from family and friends, even from customers and clients for your business by simply using your whatsapp.
How convenient is this going to be, now sending money and receiving money will be on finger tips.
We already know whatsapp is end to end encrypted and it is yet another secure system of payments by FB.
This feature is being launched under the umbrella of Facebook Pay.
Some amazing benefits of WhatsApp Digital Payments:
Easy to manage. So you might not have to remember password for each app but one.
This is going to be handy for all the small business and domestic users.
It is going to be very secure as per whatsapp. You will need to put 6 digits lock or use finger print to make transactions.
Will be cheaper and users will have to pay only some processing fees.
This is going to be good news for all the freelancers.
Here is what we found on the internet: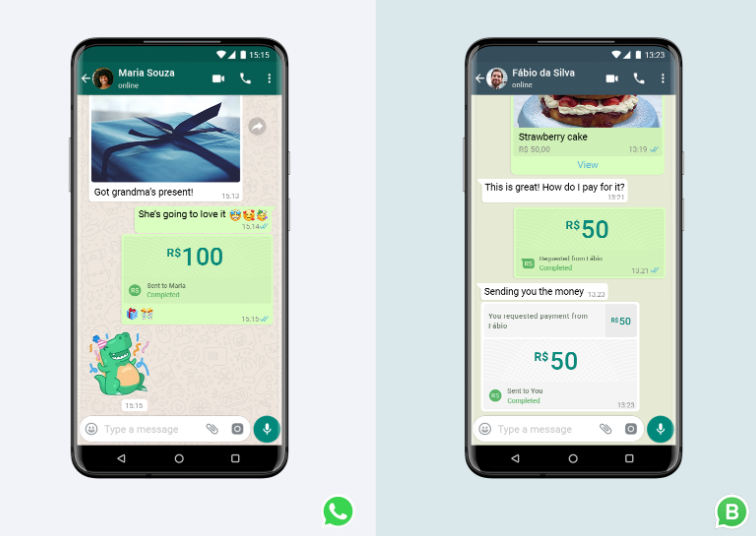 It is some kind of ad in which users send and receive money using whatsapp.
Is WhatsApp Digital Payments available in whole world?
For now FB has launched in Brazil but seems like it is going to be international in very less time may be few months.
WhatsApp users in Brazil can now send money to friends and family or pay a business right from your chat 💸💸💸 pic.twitter.com/BwrcCq9CJW

— WhatsApp Inc. (@WhatsApp) June 15, 2020
Note:
This service is only connected with Visa and Master card for and they are discussing with local banks in Brazil too.
When we are going to receive that update?
Well stay tuned with TechOnClick and we shall update you as soon as we receive any news on this. Till then subscribe to our newsletter to get direct notifications of our posts in your email;
On the other hand;