Sony Pocket Air Conditioner:
Wondering what is Sony Pocket Air Conditioner, well same like you I was amazed first when I heard about it.
It is a portable AC which you can carry anywhere anytime.
Company has named the product as Sony Reon Pocket AC.
What is Sony Reon Pocket AC?
It is thermal device which can be carried in pocket or bags with ease. All you have to do is wear it under T shirt and it will keep you cool even in the hot summers when everything burns but you will feel like you are in AC room.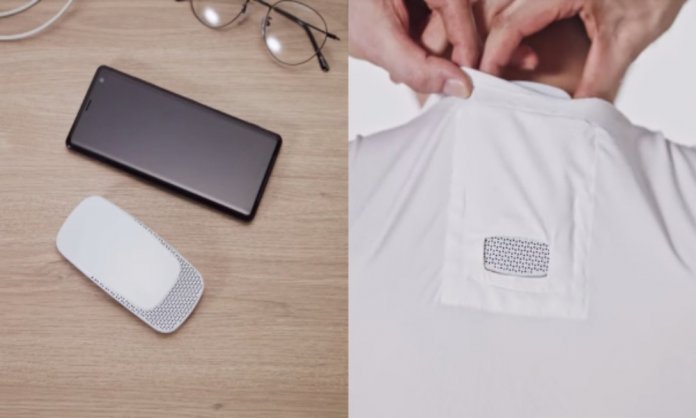 The concept is very old, most of the people have been looking for such products and here Sony has stepped in and I assure you this product is going to be viral.
The company revealed about the product back in 2019 and it was about to launch in 2020 Olympics but unfortunately it has been delayed or cancelled due to ongoing pandemic around the world.
Let's have a look at the ad of the video;
The concept is very cool, they are targetting the people who go to offices for meetings or interviews so that you look fresh and tension free that sweat will ruin you badly.
On the other hand did you notice that you can manage it via your phone?
Well you can adjust the temperature using your mobile.
Wearable AC: ✌️
Sony's Reon Pocket wearable Air Conditioner now on sale in Japan https://t.co/jcNQjLR551 pic.twitter.com/GlA86edFAT

— Mihir Jha ✍️ (@MihirkJha) July 6, 2020
For now it is available only in Japan. So high hopes it will roam at local shop near you very soon.
At least I am waiting for this. are you? Please tell us in comments below.
Some cool points;
Thermal device can be worn under your shirt like a vest we usually wear.
The device can be managed with mobile easily.
For now it is controlled with mobile but company says it will be updated with automatic option with time in near future.
My concerns about this product;
How well it is designed considering the health of a person, will this device or it's battery harm the human body?
Is it certified from health departments?
What if this explodes? Like we see blast of tech gadgets.
What is someone hacks it? :p
Please share your concerns too so that we could disucss further before buying it.
Last;
What is Price of Sony Reon Pocket AC Price?
It is being sold at $112 at many stores in Japan. The store offers shirt which holds the device with extra $20.
Shop here!
Will this product be a success?
Well yes as we all know most of 3rd world countries cannot afford AC and they can be potential buyers for this device as you can use it all the time and carry along.
This is not an end, this device will be carried by all the travellors.
---